Northern Safety Solutions
Risk Management/Safety Training Calendar
Kinney Pike's business clients have access to free seminars on risk management and workplace safety topics, as well as Safety webinars (through our Succeed web portal) .  To register for a specific webinar, clients must log in to Succeed by clicking the orange LogIn button on our Client Resources page.  To register for a seminar, contact Ryan.
If you're not a current client or need help logging in, contact Ryan for a free trial of our Succeed Risk Management tool to help your business reduce risk, save time and promote employee safety through effective risk mitigation programs.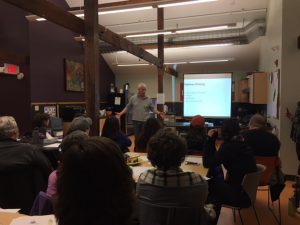 Steve Myers conducting a Winter Driving Safety course.
Did You Know You Can Request a Live Training Webinar?
We know you're busy, and may prefer to attend a webinar when it works best for your schedule.  Simply log in to the Succeed portal by clicking the Log-In button on this page, and request a live webinar for any of the topics listed. Here is a list of the top 10 live training webinars we recommend:
1.   OSHA's Globally Harmonized System (GHS) & the June 1st Compliance Deadline
2.   Safety Data Sheet and Hazard Communication Plan Management
3.   Avoiding OSHA Issues: OSHA's Top 10 Most Frequently Cited Violations
4.   Industrial Hygiene Basics
5.   "Can You Hear Me Now?" Noise and Hearing Protection for Employees
6.   Protecting Workers with Lockout/Tagout Procedures
7.   How to Implement a Fall Protection & Prevention Plan
8.   Staying on Your Feet: Preventing Slips, Trips and Falls
9.   Hand & Power Tool Safety
10. Sexual Harassment – What You and Your Supervisors Need to Know